Jaipur to Bhangarh Fort by Train
Bhangarh is a place among Jaipur and Delhi known for its remnants. Bhangarh is the oldest town which is also famed as most of the haunting place of India. The most astounding of its structures are the Hindu Mandir of Shiv (Someshwar), Gopinath, Hanuman, Vishal Devta, Ganesh, Keshav Rai, and Lavina Devi. Different buildings combine shops along the main road, a mosque, several havelis, and a palace. Entrance to Bhangarh is officially restricted among sunset and sunrise.
Arrival Jaipur
After arrival at Jaipur, you will be meeting with our tour representatives that accompany you to your car. Later you will be taken to sightseeing the Bhangarh:
Bhangarh:
Bhangarh is a place among Jaipur and Delhi in Rajasthan province of India popular for its remnants. Bhangarh is also a pre-primitive site. The most popular of its structures are the temples of Gopinath, Mangla Devi, Shiva (Someshwar), Keshava Rai and Lavina Devi. Different structures incorporate shops along the primary street, a few havelis, a mosque, and a palace. The palace was confined by two inward forts over the valley.
Section to Bhangarh is legitimately restricted among sunrise and sunset. A notice posted by ASI (Archaeological Survey of India), which is a Government of India association, indicates the directions.
Legend states that the city of Bhangarh was reviled by the Guru Balu Nath, who authorized the foundation of the town with one condition, saying, "The minute the shadows of your royal residences contact me, the city will be no more!" When a relative raised the royal residence to a tallness that cast a shadow on Balu Nath's taboo withdraw, he reviled the town as forecasted. Balu Nath is said to lie covered there right up 'til the present time in a little Samadhi.
Another legend is that of the Princess of Bhangarh Ratnavati, said to be the gem of Rajasthan, who on her eighteenth birthday celebration started to get offers of marriage from different districts. In the region carried on a tantrik, a mystical performer knowledgeable in the mysterious named Singhia, who was infatuated with the princess, however, realized that the match was unimaginable. When one day Singhia saw the princess' housekeeper in the market, he utilized his dark enchantment on the oil she was obtaining so that after contacting it the princess would surrender herself and raced to him.
The princess, in any case, seeing the tantric captivating the oil, foiled his arrangement by pouring it on the ground. As the oil struck the ground is transformed into a rock, which pulverized Singhia. Dying, the magician reviled the palace with the demise of all who abided in it. The following year there was a fight among Ajabgarh and Bhangarh in which Princess Ratnavati died. Legends also say that there are ghosts in Bhangarh and that is the reason section is disallowed for tourists in the fort before sunrise and after sunset.
Make Query to Book this Tour
Need Help ?? Contact us..!!
Gangour Festival Tours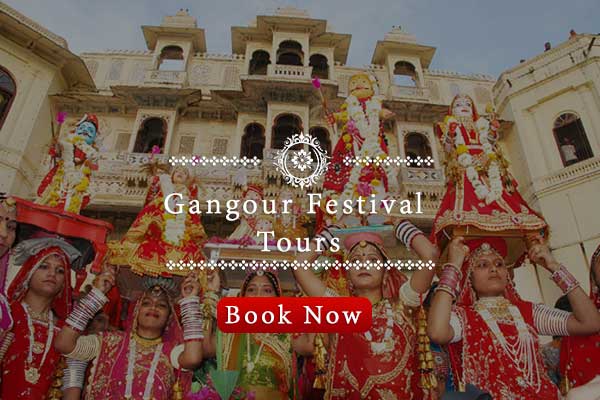 Rajasthan Tourism Bureau
rated

5

/ 5 based on

2124